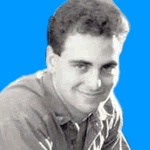 Killer Keith
6PM-10PM
Killer Keith brings you the party to the Power Station every weeknight! At 7PM it's Tucson's Power 7 at 7, as Keith counts down the hottest 7 jams in Arizona. Then at 8PM, it's all your shout-outs and dedications during Power 1490's Kiss or Diss!

Keith was born and raised in Tucson, and graduated in the lower 3rd of his
class from Salpointe High School. Even though he wasn't the smartest
kid in school he was quite an athlete. Keith broke the 21 year old school pole
vaulting record (14 ft and 1 inch) and still holds the record to this day.

Keith got "the radio bug" in Jr. High. He was always winning prizes and trying to get his name or voice on the air. Right out of high school he started deejaying parties and weddings and was the youngest DJ ever hired at Disc Jockey Entertainment. After he got a little experience there he decided it was time to try radio. He went to talk to Power 1490's General Manager at the time, Alan McLaughlin, and begged for any position that he had. His first job was for Cloud 95 (Power 1490 didn't exist then) as a "phone call research" assistant. In Keith's words, "It sucked!" He had to call people all night on the telephone and ask what radio station they listened to. Keith said it was not fun, but he did enjoy getting to hang around the station a lot. He learned every position at the radio station that he possibly could: On-air, promotions, sales, engineering...you name it, he tried it. Keith finally got the chance to work over night programming the station. He didn't get to talk, just had to hit the buttons. Soon after, Keith got his big break, when the night guy left and he got his slot. The rest is history.

Copyright 1994 Behan Broadcasting
Click HERE to vote for tonight's Power 7 at 7!

R